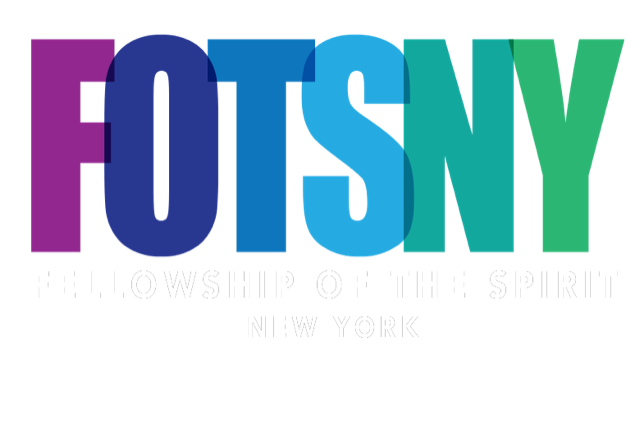 The first Fellowship of the Spirit New York (FOTSNY) was held in Queens, NY, back in 1998 after a few alcoholics had attended the original FOTS in Colorado.  The mission of FOTSNY has always been dedicated to bringing a message of hope and recovery through a weekend of workshops, speakers, fellowship, and fun centered around the book "Alcoholics Anonymous" to the greater NYC area. We hope that all who join us may feel their spirit stirred and hopefully walk away with a passion for carrying this message outward into their local communities and further widen this circle of peace on earth.  The conference is open to all but will only feature speakers from Alcoholics Anonymous and the Al-Anon Family Groups. So we hope you come join us in brotherly and harmonious action as we walk shoulder to shoulder on our common journey.
In Love and service,
2024 Fellowship of the Spirit New York Committee
REGISTER NOW FOR OUR ANNUAL CONFERENCE MAY 3-5, 2024!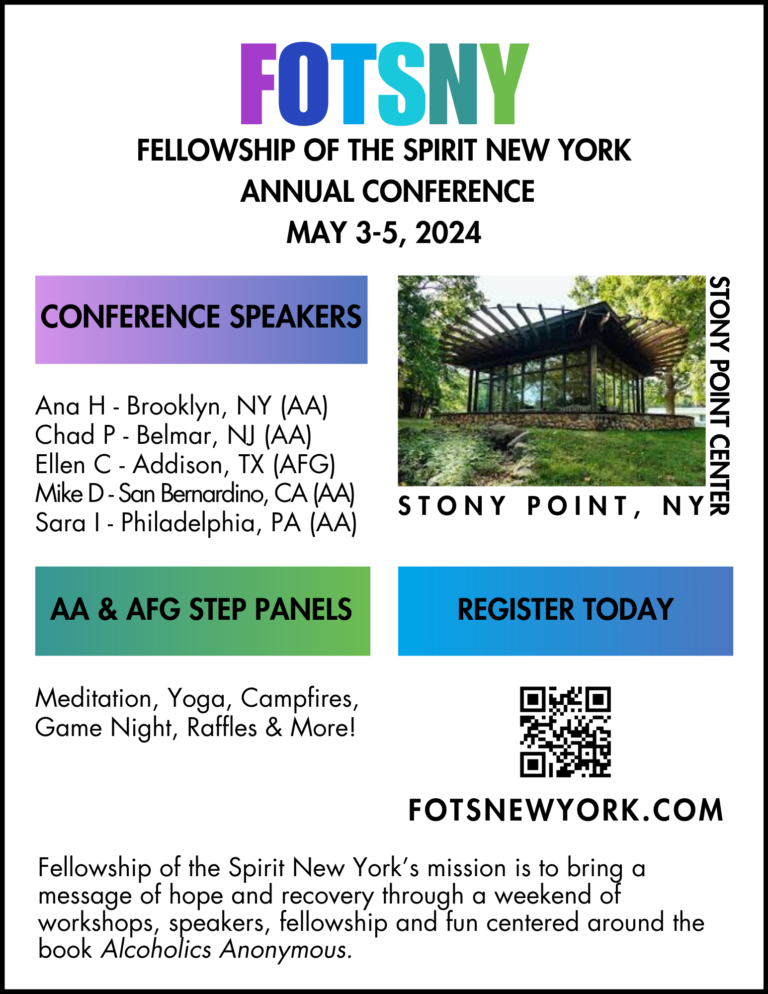 Fellowship of the Spirit New York is pleased to announce our annual conference!
Stony Point Center
17 Cricketown Road
Stony Point, NY 10980-3299
Friday May 3rd – May 5th 2024
Situated in beautiful Stony Point New York, our conference will feature indoor/outdoor meeting spaces with ample room and peaceful settings designed to encourage all meditation practices. The lodges are designed and built with the express intent of fostering community and sharing. The simple accommodations are on one level with central rooms that naturally encourage interaction while also providing privacy and comfort.
Stony Point Center is located in the scenic Hudson River Valley, 45 minutes northwest of New York City in beautiful upstate New York.
Ana H – Brooklyn, NY (AA)
Chad P – Belmar, NJ (AA)

Ellen C – Addison, TX (Al-Anon)

Mike D – San Bernardino, CA (AA)
Sara I – Philadelphia, PA (AA)
Panels will include a diversity of speakers
(two AA and one Al-Anon)
sharing on all 12 steps
Yoga
Morning Meditation
Nightly Review
Game Night
Ice Cream Social
S'mores Around The Bonfire
…and so much more!
Availability is limited – register now!
To register for the 2024 Fellowship of the Spirit New York please follow the link below.
You will receive a confirmation email once you have checked out.
All registrations are non-refundable. However, registrations may be offered as a gift to someone else in the event you can not attend, or the FOTSNY committee will offer it as a hardship scholarship.